East London Recording Studio – Music Services
At flukeproductions, we cater for all types of recording artists at our recording studio in East London.
Whether you are a band or a solo artist we are here to help you record your music to show your voice and instruments off to their very best.
We also work with spoken word and voice-over artists and provide other services, including corporate team building events and recording sessions as a gift.
Our experienced producer is on hand to help you get the most out of your studio time. Find out more about our recording studio services below, or click to Book.
Music Recording
You've written the songs, now do them justice and get them professionally
recorded. We've worked with artists in every genre, from Indie, RnB and Pop to Jazz and Classical, delivering shining production without exception. When they know they can get great results at competitive rates, it's no surprise 90% of our clients come back.
Mastering
This is the process of preparing and transferring your recording to a format that can be duplicated on CD. During mastering, the final stereo mix is processed to even out the highs and lows, boost the overall volume, and make it sound more consistent across different formats and playback systems.
Session Musicians
Let us know if you need additional musicians or vocalists for your recording. We
have a selection of London's finest on our books and can hire as few or as many extras
as you need.
Writing & Production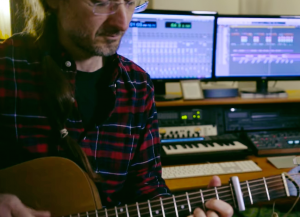 Got the melody and lyric, and need a backing track? We can create backing tracks
and beats, both original and covers, to suit your style. Tracks are produced using our
digital equipment to create contemporary sound, and can be remixed for radio.
Remixing
Remixing your tracks helps you to reach a new audience. Our producer remixes for
radio, clubs and live performance, giving you musical versatility at a surprisingly low cost.
Spoken Word
We have a limited voiceover service available for small projects.
Vocal Recording
If it's just vocals you need, come on down. The Fluke Productions producer is
trained to listen attentively and help you to develop and enhance your vocals. The
chilled surroundings and expert support helps artists to relax and perform, ensuring
that you give your best performance on the day.
Vocal Coaching
We've worked with dozens of vocalists and our producer Luke Henderson is renowned
for his ability to get the best performance from artists. So if you could benefit from
coaching for your vocal technique or writing lyrics/melodies, just ask us…
Gifts
Give someone the chance to become a star for the day with a recording session at flukeproductions. As part of their unique gift experience, the recipient will be guided through a recording session – and leave with a CD of their own work. It's ideal for birthdays (all ages welcome), wedding anniversaries, hen parties and special events.